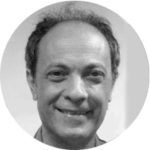 Armando Alonso
 (Teacher- Guitar Player - Composer)
He develops a solid educational trajectory, both in the private sphere as in important institutions in Argentina, "Escuela de Musica Popular de Avellaneda".
He has given numerous workshops on Improvisation and Functional Harmony in prestigious universities and schools all over the country.
He has played both in his groups and as a guest with the most important jazz musicians in the country.
In 1984 he lives in Freiburg, Germany, sharing important jazz clubs and clubs with Thomas Fichter (bass) and Tillman Gluenter (piano).
Between 1985 and 1992 he joined the group of bandoneonist and composer Dino Saluzzi, playing in turn as guests important Argentine and European musicians such as: Enrico Rava, Arto Tuncboyaci, Gustavo Bergalli and others.
Record the CD "Mojotoro" for the prestigious ECM label (Germany).
Throughout his artistic career he recorded more than 9 CD with its different formations as well as invited guitarist.