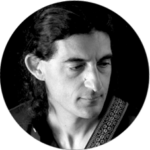 Daniel Eduardo Pellegrini
(Teacher - Guitarist - Composer - Arranger)
Jazz guitar lessons with Walter Malosetti, Ricardo Pellican and Armando Alonso.
Performances in local jazz clubs and festivals with their own formations and with WalterMalosetti, Ricardo Pellican, Néstor Crespo, Bucky Arcella, Alejandro De Raco, Héctor Ruiz,Luis D`Agostino and Micaela Vita, among others.
Private guitar lessons since 1982, classes at the Ricardo Pellican Academy,EFIMUS, guitar workshops at La Salle Florida College and improvisation clinics in the inside the country.
Author of books ("Solos de Fusion" and "Chord Melody"), of instructional videos ("Clínicas de Guitar "by Zafeta editorial) and transcripts for Ricordi publishing house.
Stable columnist of the magazines "El Musiquero" and "Music Expert" (year 1987-2001) of the"Solo Jazz" and "Jazz Guitar" columns.